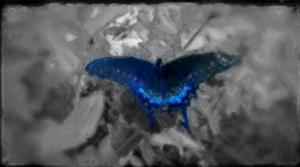 Butterflies in Knots a Short story Inspired by http://exclusive-canvas-art.pixels.com/featured/blue-butterfly-in-charcoal-and-vibrant-aqua-paint-mendyz-.html

This Butterflies in Knots short story was inspired by painting by the artist MendyZ. Click to look at the painting.


This Butterflies in Knots short story was inspired by the blue butterfly in charcoal and vibrant aqua painting by the artist MendyZ.
The beautiful painting is available as prints in all sorts of ways that can match your decor.
But it also is available for print on some pretty cool functional products.
Pillows
battery packs for your phone
shower curtains
...
Butterflies in Knots
The blue butterfly fluttered around my finger like a house in a tornado. The beautiful blue shimmered in the sun, shining a beautiful pale blue light on my finger as the skin was lit by the golden orb in the sky. I stared up with fluttering eyes, looking as the little creature fluttered around my finger gently. I felt the pain sink away from my head. A dull sensation dared lick the nerve endings in the front of my head with a kind of wonderful fire that made me giggle slightly. I relaxed, feeling this sensation wash over me. I closed my eyes for a moment, feeling the warm feeling wash over my entire body. As I rested my back on the carpet, touching the back of my head to the furry carpet, I felt at peace with the world. It felt as if a smile was eternally stained on my face. The feeling of bliss was amazing as it washed over my entire body as if it was like a wave of pure happiness washing over my very body. There was no other feeling like it, I could imagine. Have you ever come in from a cold winter day and jumped into a hot shower? That is what this sensation felt like and it felt powerful.
The butterfly wandered around my finger, racing up my finger like a spinning top. Slowly, it reached my legs out, grabbing my finger tip with my legs. It slowly perched on my finger, the wings slowly pressed together behind its back. It stared at me with large eyes, yet they weren't like the normal bug eyes. They were beautiful eyes, like shiny disco balls. I slowly felt my smile grow wider. The butterfly's wings spread, the wings beating a little. Feeling the soft air beat on my sensitive finger tips, my brain fired with soft shots of pleasure. The butterfly flew around my finger again, feeling my life turn a bit more beautiful every second I stared at the butterfly. My brain disappeared into imagination, feeling my vision slowly dull as I started to disappear from reality. My eyes disappeared into fantasy. I breathed a long sigh of relief as my mind slowly peeled away from my body.
Lazily, I brought my hand down to the soft carpet. The butterfly quickly took flight away from my finger, spreading its wings and flying beautifully around the small space we found ourselves in. My mind drifted off further, thinking about diamonds and the joy of life. I imagined me and the butterfly, spinning around an open cornfield. A wonderful piece of joy for the entire two of us. The barley was fluffy and a beautiful golden color, they didn't prick or annoy the skin, they were like fluffy bits of blanket. The butterfly danced beautifully, without any protest against the wind, around my head. I danced my hand through the barley as I giggled, my heart beat with a joy I've never felt before. The happiness grew so large, where it almost hurt. Happiness almost hurt my chest, burying into it like a tick. Yet, it was a wonderful tick. A tick that replaced my blood with happiness and my pain with joy. It was a parasite made all the ingredients of love and joy. That was my butterfly. It was an insect, usually something to be destroyed or burned. If I heard there was an insect in my room, my first thought would be to get a can of spray and gas it to the point of death. Yet, with the butterfly, it was different. This butterfly had diamonds for wings, a body made of wonderful black silver, and a soul made of gold.
We danced around the beautiful barley field. It ran on infinitely and I started to sprint through the field, the butterfly following after me. Quickly, I ran faster, with my arms spread out. Feeling the wonderful carpet rub against my arms and my hands, I took in the feeling of the wonderful barley. Finally, I collapsed in the middle of the field, not from exhaustion. I fell on my back for the sheer joy of it , making an angel in the barley. I felt at bliss with the world, with my eyes closed. Yet, as soon as I opened my eyes, the sun grew too bright. The simple sun grew to cover the sky.
I wasn't in a field full of barley. I was in the trunk of a car. My kidnappers had opened the trunk and the butterfly flew away.
THE END
and more...
Artist MendyZ
Artist MendyZ Facebook for more short stories, deals, promotions, and discounts
http://exclusive-canvas-art.pixels.com/featured/blue-butterfly-in-charcoal-and-vibrant-aqua-paint-mendyz.html